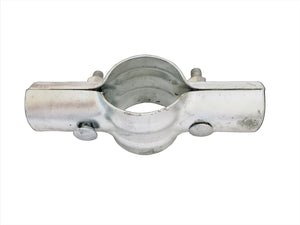 2-1/2" x 1-5/8" Line Rail Clamp
The American Fence Company
SKU: 10623
Regular price $3.87 Sale
---
Composed of galvanized steel, this line rail clamp is a must-have for building a chain link fence. The purpose of this fitting is to attach two separate horizontal rails to the same vertical fence post—the whole forming a four-way, cross-shaped apparatus. If you are building any kind of sports fencing, greenhouse, dog kennel—or anything that requires bottom and mid bracing—this line rail clamp is an essential purchase.
To install the 2-1/2" x 1-5/8" Steel Line Rail Clamp to your chain link fence, slide the large, circular gap over your fence post and secure it in place with nuts and bolts (sold separately). The "arms" of the clamp will hold the line rails in place. In addition to being sturdy and long-lasting, the steel from which this clamp is made is resistant to rust. This is useful for boosting not only fence longevity but also safety. Especially for sports fence panels, which are perpetually exposed to the elements and frequently touched by players as well as spectators.

Made of galvanized steel
Rust-resistant 
Carriage nuts and bolts sold separately (Part 11174)
Due to minor manufacturing differences, actual product may vary slightly from pictures shown.


How the part fits? The clamp consists of two galvanized steel pieces that sandwich one vertical post and two horizontal rails in a 4-way intersection or "plus sign" formation.
Where is it installed? Line rail clamps can be used to secure a bottom rail or mid-rail to a chain link fence. Commonly you will see line rail clamps used on backstops/baseball field fencing, tennis court fencing, greenhouse frames, and outdoor dog kennels.
How many do you need? Each clamp consists of two pieces that together sandwich one joint. Typically you will need one clamp at each crossing of post and rail.
Fits 2-1/2" outside diameter post and 1-5/8" outside diameter rail; .62lbs.
Placing one piece of the clamp on either side of the cross-section, secure the clamp in place using two nuts/bolts (sold separately, Part 11174) for added strength and stability to your fencing project.