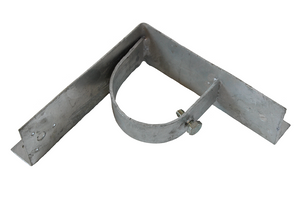 Corner Adapter 3"
The American Fence Company
SKU: 10930
Regular price $13.37 Sale
---
Although wood fences get their name from the lumber making up their build, some of these fences' key components derive from other materials, ones not manufactured by Mother Nature. Fabricated using galvanized steel, this 3" corner adapter improves structural support and promotes a longer, more fulfilled lifespan for your fence. Its chassis has been carefully welded into a 90-degree angle, allowing it fit snugly into corners between fence panels. The chassis likewise features a "lip" designed to grip onto the panels' horizontal backer rails. The numerous holes fabricated into the adapter are designed for screws for secure attachment. And the metal fence post that helps secure everything fits into the adapter's curved, central grip.

As mentioned above, this adapter's fabricated from galvanized steel, which provides resilience to rust and corrosion. This, in turn, helps prevent damage caused by long-term exposure to rainwater, melting snow and ice, etc. As a result, your adapter won't fall apart due to corrosion and thereby compromise your fence's strength. As alluded to in its name, this corner adapter's designed to hold 3" fence posts.
Corner adapter 
Rust resistant 
For 3" rails