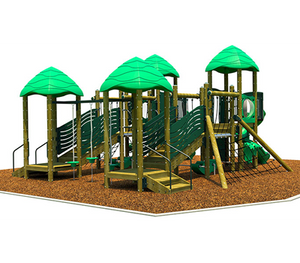 Continuum MBT-223
Play & Park
SKU: Continuum-MBT-223
Regular price $85,068.00 Sale
---
Playground system with climbable netting, shade structures, slides, stairs, swinging stands
Age Groups: 5-12
Use Zone: 36' 7" x 40' 6"
Fall Height: 5' 6"
Activities: 15
Capacity: 50-60
Weight: 8900 lbs
Accessibility: Yes
Green Summary
Recycled Content: 66%
Milk Jugs: 30,384
Scrap Metal: 732 lbs
Wood Option: 60% FSC content
Installation:
A certified Play & Park Structures Installer is recommended for play equipment installation. Customer shall be responsible for
scheduling coordination and site preparation. Site should be level and permit installation equipment access. Purchaser shall be responsible
for unknown conditions such as buried utilities, tree stumps, bedrock or any concealed materials or conditions that may result in additional
labor or material costs.