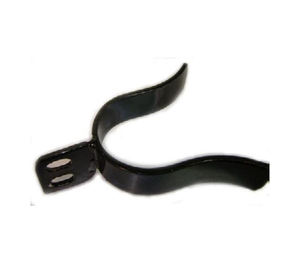 Black Fork Latch 2 1/2"
The American Fence Company
SKU: 10886B
Regular price $2.95 Sale
---
ESSENTIAL GATE LATCH: A two-pronged fork latch designed to fall in place around a fence post. Holds gate shut but can be easily lifted into the "open" position.

USED WITH FORK HANGER AND CARRIAGE BOLTS: For attaching to your gate frame, use a fork hanger and secure with carriage bolts. Hanger and bolts sold separately.

PRE-FABRICATED HOLES: The neck of this latch includes two pre-made holes, each designated a specific function. Use the top hole for securing this latch to its hanger. The bottom hole can be used to hold a padlock or carabiner.

BLACK VINYL COATING: A layer of black vinyl applied atop steel for extra resilience to corrosion. Also matches the look of black vinyl gates and fences.

EXTREMELY RUST RESISTANT: Because a gate latch is manually operated, it must remain safe to touch.
In order to provide secure entry to premises, gates need the ability to firmly shut. This 2-1/2" Fork Latch is the quintessential gate access device for residential applications. Its movement range is simple, designed to rise into the "open" position and also drop shut. The two-prong shape fits smoothly around a fence post, maintaining its grip while allowing the user to lift it into the "open" position again. Attaching this latch to your gate frame is accomplished using a fork hanger and carriage bolts—sold separately. Notice that this product has two pre-made holes. Each serves a different purpose. The topmost hole is used for attaching the latch to the aforementioned hanger. The second hole can be used for holding padlocks or carabiners: a valuable extra bit of security for residential applications. After all, children can easily figure out how to open these latches; you don't want them wandering unsupervised onto your property. After all, you could be held liable for any injuries—or worse—sustained. If you have attractive hazards on your property such as swimming pools or garden equipment, a gated fence with a secure latch is a must. This particular latch is extremely resilient to rust thanks to its black vinyl coating. Rust resistance is essential for any hand-operated part such as this. The color and material also match the aesthetic of black vinyl fences and gates.
**This does not Include Nut and Bolt (Part # 11170B).