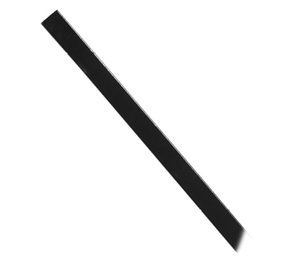 5/8" x 72" Black Tension Bar
The American Fence Company
SKU: 11005B
Regular price $6.99 Sale
---
Chain link fence tension bars are actually one of the most essential parts for your residential or commercial barrier. Despite a seemingly disarming appearance (what appears to be little more than a narrow slat of material), the 5/8" x 72" Black Tension Bar is used in conjunction with tension bands (sold separately) to provide tautness to fence fabric. Without tautness, the fabric hangs loosely at points, allowing animals and humans easy points of entry.
Do not install your tension bars until you've successfully set up your fence's terminal posts, top rails, and line posts and fitted them with the above mentioned tension bands. At this point, unroll your chain link fabric and stand one end of it up against one of your terminal posts. Slide the tension bar vertically down and through the tension bands and, at the same time, the end "knuckles" in your chain link fabric. Repeat the process using another tension bar at the opposite end of the fabric. The combined tension should provide tautness needed for your fence.
The 35/8" x 72" Black Tension Bar features black vinyl coating. It is highly rust resistant.
Black vinyl coating
Rust and corrosion resistant 
For a 6' fence
How the part fits? A 72" tension bar is actually 70" in length. It is designed to fit through the last weave of the chain link fabric at the point of termination.
Where is it installed? A tension bar is installed at every point where you terminate your chain link fence. 
How many do you need?  You will need (1) 72" tension bar at every corner, end, and gate post. For every stretch of fence, you will need (2) total.
Once you have installed your post, framework and top rail, you will take the end of the chain link fabric and place it up to the terminal post. Start at the top of the chain link fabric and insert the tension bar down through the bands and the weave of the chain link until you get to the bottom. You will then tighten all the tension and end bands to hold the tension bar in place.