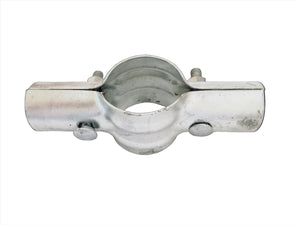 2-1/2 x 1-5/8 Line Rail Clamp - 5 pack
The American Fence Company
SKU: 10623P5
Regular price $8.07 Sale
---
One of the essential components in the building of a chain link fence, these line rail clamps have been designed for the purpose of connecting two horizontal fence rails to the same vertical fence post. These clamps are imperative when constructing any type of chain link fence that requires bottom and mid bracing—such as tennis court fences, backstops, baseball field fences, dog kennels, and greenhouses.
These particular line rail clamps are made of two separate pieces of galvanized steel that are secured to chain link fence posts and railings with carriage nuts and bolts (sold separately). The clamp is attached to the 2-1/2" fence post where your 1-5/8" line rails are to intersect. Slip the clamp over and through the fence post via the large, circular gap in the center and secure with nuts and bolts. The line rails will be held in place via the tubular "arms" of the clamp.
Because these clamps are made of galvanized steel, they are extremely rust resistant—an essential strength and safety feature for any kind of sports fencing, wherein players and spectators frequently bump against the fencing. Don't forget that, as seasons change, the fence will be exposed to constant sunlight, rain, snow, etc. Preventing rust is an absolute must.
This order comes with 5 line rail clamps for chain link fencing.