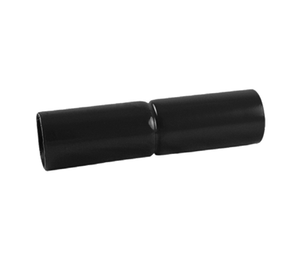 1-3/8" x 6" Black Top Rail Sleeve
America's Fence Store
SKU: 10501B
Regular price $2.91 Sale
---
SECURELY JOINS TOP RAILS: An affordable alternative to replacing broken fence parts, this sleeve is used to join two separate pieces of chain link top rail. Each end holds a separate rail piece.

IMPROVED FENCE STABILITY: An effective chain link fitting for improving the integrity of your fence. Can be welded for additional strength.

AFFORDABLE FENCE REPAIR: Lower cost than buying replacement rails. You can also use this fitting to link two complete rails for a longer run, likewise cheaper than paying for custom fabrication.

RUST-RESISTANT BLACK VINYL COATING: In addition to matching the aesthetic of a black vinyl fence, the coating for this fitting is imbued with rust-resistant qualities.
Lightweight, rust-resistant, and tubular in shape, this top rail sleeve is an important fitting to have when repairing broken rails on a chain link fence. Rather than pay for replacement rails, you can use this sleeve to join the two broken parts. Each end features an opening wide enough to support a 1-3/8" top rail. If needed, you can weld the sleeve and rails for additional strength. The sleeve is likewise useful when joining two complete top rails for an extended run—also less expensive than paying for a railing of custom length. This top rail sleeve features black vinyl coating, which yields resistance to rust and corrosion. Rust resistance is vital as it makes your fence safer to touch and contributes to its longevity. After all, a fence part that rusts will need future replacement.