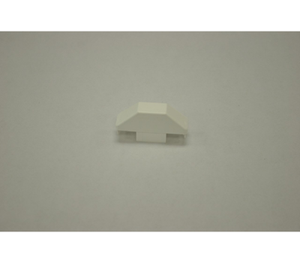 White Dog Eared Picket Cap 7/8" x 3"
Kroy
SKU: 7FWFRZ0903002
Regular price $0.67 Sale
---
Complete your 3" vinyl fence's functionality and appeal with our Dog-Eared Vinyl Fence Cap. Designed with both aesthetics and durability in mind, this white fence cap is the ideal solution to add a sophisticated finishing touch to your outdoor space.
Key Features:
Distinctive Design: The dog-eared shape of the cap adds a classic and timeless appeal to your fence, elevating its overall appearance. It enhances the visual appeal of your property while maintaining a clean and polished look. At the same time, it is smooth and safe to touch.

Premium Quality: Crafted from high-quality PVC, our fence cap is built to withstand the test of time. It is resistant to fading, cracking, and peeling, ensuring that it retains its pristine condition even in harsh weather conditions. Say goodbye to the hassle of constant maintenance and hello to long-lasting beauty. The white color is perfect for vinyl fences of the same color.

Easy Installation: Installing our Dog-Eared Vinyl Fence Cap is a breeze. It seamlessly fits on top of most standard vinyl fence posts, securely attaching with minimal effort. You don't need any special tools or expertise to achieve a professional-looking finish. Enjoy a hassle-free installation process and save valuable time and effort.

Increased Fence Longevity: Why do you need a vinyl fence cap? Capping the tops of your fence posts prevents them from becoming clogged with leaves, debris, and water. This, in turns, promotes a longer lifespan for your fence. If your posts' setting aren't compromised, your fence will retain its strength and foundation longer.

Maintenance-Free: Unlike traditional wooden fence caps that require regular painting, staining, and sealing, our vinyl fence cap is virtually maintenance-free. It is resistant to mold, mildew, and pests, making it an ideal choice for homeowners seeking a low-maintenance solution.
Upgrade your vinyl fence and transform it into a stunning focal point with our Dog-Eared Vinyl Fence Cap. Enhance your outdoor living experience while enjoying the benefits of a durable, versatile, and visually appealing product. Don't compromise on quality or style - choose our Dog-Eared Vinyl Fence Cap and elevate the look of your property today!