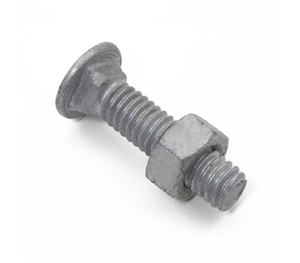 Carriage Bolt 3/8" x 2-1/2"
The American Fence Company
SKU: 11174
Regular price $1.08 Sale
---
About this item
HELPS SECURE FITTINGS: An important accessory to have when building a chain link fence, carriage bolts finalize the installment initiated by tension bands, rail ends, and end bands. Without carriage bolts, these parts cannot hold your fence together.

FULLY THREADED: Each bolt's cylinder features a threaded helix—basically a spiral-shaped ridge. Thanks to this ridge, you can screw a nut onto the bolt and it'll remain in place.

GALVANIZED: Galvanization imbues these carriage bolts with rust-resistant qualities. Rust resistance prevents corrosion and improves the longevity of your chain link fence.

INCLUDES CARRIAGE BOLTS AND NUTS: Each bolt comes with an accompanying nut, to be wound around the bolt's cylinder and clamp what's between the two in place.
Product Description
3/8" x 2-1/2" carriage bolts are key to installing a chain link fence. For even though fences are comprised of posts, rails, and chain link fabric—and held together by fittings such as tension bands and rail ends—many of these individual parts must be clamped into a secure position. To accomplish this, you need carriage bolts and the accompanying nuts—so that the parts not only come together but remain securely attached. These particular carriage bolts are fully threaded, meaning they have a spiral-shaped ridge that runs the entire length of their cylinder. The purpose of this threading is so that a nut can be spun around the bolt and remain firmly in place upon reaching the desired position. When you slide the bolt between, say, a rail end and the tongs of an end band—and then secure everything by attaching a nut to the end of the bolt—all the individual parts hold together. All parts have been galvanized for rust resistance, which is essential for outdoor fixtures. After all, if your bolt becomes corroded by rust and pops loose, all the parts it's attached to will become unraveled.